Filter by Subcategory
Adult Enrichment Classes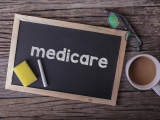 ABC'S OF MEDICARE
with Jonathan Shores

Jan 15, 2019 at 6:30 pm
This free informational session explains the ABC's regarding your rights and options with Medicare. This class is not affiliated with CMS or the federal government and is run by a non-profit agency called Sociably Secure.
Registration Unavailable
SOCIAL SECURITY DISABILITY
with Rosalee Nattress

Nov 13, 2018 at 6 pm
If you have been turned down by Social Security or are thinking of applying, then this class is for you. In this one-night class you will learn how the application and appeal processes work, and receive helpful hints to help you navigate the system more successfully. Questions will be answered at the end of class. Whether you want to apply on your own or would like the help of an attorney, this class can help.
THE BASICS OF MICROSOFT PUBLISHER
with Nancy Schlosser

Nov 27, 2018 at 6 pm
The emphasis of this class will look at page layout and design. We will work on format, a creative flier to create an invitation or brochure using pictures, clip art and borders. Visit Microsoft Publisher capabilities in this two-night course. The first night will begin with the basics and the course will continue into the second night, with time allotted for any specific questions that you may have.